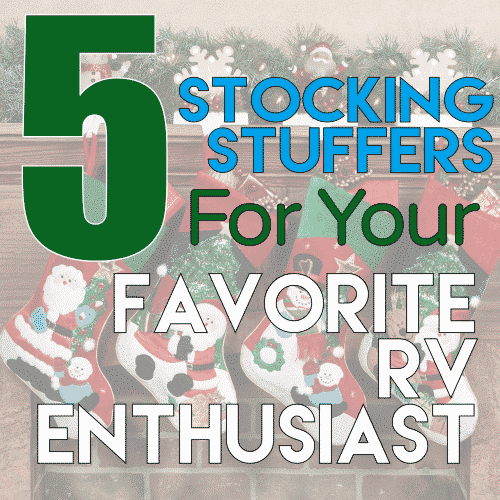 It's the holiday season of giving, which means there is no better time than now to treat your favorite recreational vehicle (RV) enthusiast to a few memorable and valuable stocking stuffer Christmas gifts. What better way to bring joy and happiness to a friend or family member that loves RVing than to give them something useful for their next travel adventure.
The Christmas stocking has a rich tradition with the original legend of origin following a poor widowed father of three girls. Even though his daughters were smart and beautiful, he worried that their lack of money would discourage potential marriage suitors. One day St. Nicholas was traveling through the town (maybe he was even RVing) where the family lived and overheard the details of their story. He wanted to solve the dilemma so one evening, he dropped down the chimney of the family's home and loaded the girls' freshly laundered stockings drying by the fire, with gold coins. The girls rose in the morning filled with joy after learning about their newfound riches. Due to St. Nick's generosity, the daughters were now desirable to marry and their dad could sleep well knowing they wouldn't live a life without love. The first literary reference of Christmas stockings dates back to 1823, when Clement Clarke Moore (or possibly Henry Livingston Jr.) penned "A Visit From Saint Nicholas," where stockings were pinned close to the fireplace, awaiting a gift filling from Santa Claus. The stocking stories and memories from individuals around the world abound as well. Maybe you even have some of your own.
Regardless of where you think the idea of Christmas stockings begin they provide a perfect opportunity to give something small to those that love to RV. So what does make a fantastic holiday gift for the avid recreational vehicle (RV) hobbyist? Let's take a look at five of the holidays hottest recreational vehicle stocking stuffers that are sure to bring happiness to any avid RV traveler.
Holiday Stocking Stuffer Recreational Vehicle (RV) Christmas Gift Idea #1
Perfect for saving money on gas and fuel efficiency, driving safely and simplicity a digital tire pressure gauge is an essential asset for the serious RV driver. One of the best parts about this specific tire gauge is that it's from father and son small business in California and comes with a lifetime warranty! By keeping your tires inflation optimized and monitoring tread and functionality not only will you be avoiding wear and tear on your RV but you will also be assuring a much smoother and safer driving experience.
Holiday Stocking Stuffer Recreational Vehicle (RV) Christmas Gift Idea #2
The book "50 States, 5,000 Ideas: Where to Go, When to Go, What to See, What to Do" by National Geographic and author Joe Yogerst provides a great starting point for any RV travelers making their way across the United States. The real key to this stocking stuffer gift is that you can find books at places like Amazon.com for Canada, Europe, Mexico, Australia or wherever will be the focus of your friends or family's RV trip.
Holiday Stocking Stuffer Recreational Vehicle (RV) Christmas Gift Idea #3
Sure when RVing you live to smell the beauty and freshness of the outdoors but that does not mean you want your recreational vehicle to stink and this bamboo charcoal air purifier bag is an ideal way to eliminate odors, mildew, mold, moisture and allergens from your RV living space. In order to enjoy the smells of the holidays you have to have a clean RV.
Holiday Stocking Stuffer Recreational Vehicle (RV) Christmas Gift Idea #4
If you know an RV enthusiast who is also a technology lover then a stocking stuffer Christmas gift like the Furrion Vision S 4.3 inch Wireless RV Backup System is sure to satisfy their inner geek. Offering a rear marker light camera, infrared night vision, wide viewing angles and much more this extra set of eyes on the road make maneuvering large recreational vehicles easy regardless of the time of day.
Holiday Stocking Stuffer Recreational Vehicle (RV) Christmas Gift Idea #5
If there is one thing about driving long distances it's that emergencies do pop up every once and awhile and having these Pele Rendelle LED road safety flares is a sure way to stay safe during those nighttime disasters. This emergency roadside warning safety flare light kit is an RV Accessory equipped with all the essentials like flashing beacons, a flexible flashlight, a carry and storage bag and more. Highly durable safety gear is always needed on RV trips and with these being shatterproof, waterproof(ip67), & shockproof they are built for any type of weather conditions.
Hosting a Christmas tree with presents under it in a recreational vehicle (RV) might be a daunting, uncomfortable and cumbersome task but hanging a stocking with a small gift somewhere seems a lot more feasible and economical. For those friends that RV a lot during the holidays or even for those that enjoy being on the road in their recreational vehicle whenever they get the chance, a nice stocking stuffing gesture heading into the New Year can be a great way to send your love and well wishes. It also provides a chance to give them something of use and value as they drive to their next recreational vehicle destination or vacation spot. Since Christmas stockings can be customized and come in a variety of shapes, sizes and styles they really do add a lot of fun, excitement and visual eye appeal to any environment they may find themselves in. Not strictly limited to be hanging over a fireplace there are plenty of places in most every RV to secure a stocking for increased seasonal bliss for the entire family. From RV cabinets, to RV beds, to RV appliances, to RV furniture, to RV windows to so many other RV features there is usually a plethora of choices on where to display your Christmas stockings. If you could get any one holiday gift for your recreational vehicle (RV) what would you like to see in your stocking on Christmas morning?