If you are considering living the RV lifestyle, one of the first things you will need to consider is what type of RV you want to live in. And as you may find out, there are not only numerous options out there, but also many different types of RVs to choose from.
So we put this guide together to help you figure out what type of RV might be best for you, or just to show you what the different styles mean.  In the end it will be up to you to decide which route you want to go, and you may also find (like we did) that you go through a few different RVs and styles before you find the one that fits your needs best.
In this article we will explain the differences between the Motorhome classes, as well as provide examples and information on the other types of RVs available.
Length:  21 feet (6.4m) up to 45 feet (13.7m)
Height:  10 feet (3m) (on average)
Weight:  vary from under 15,000 pounds (6,800kg) to up to 40,000 pounds (18,000kg)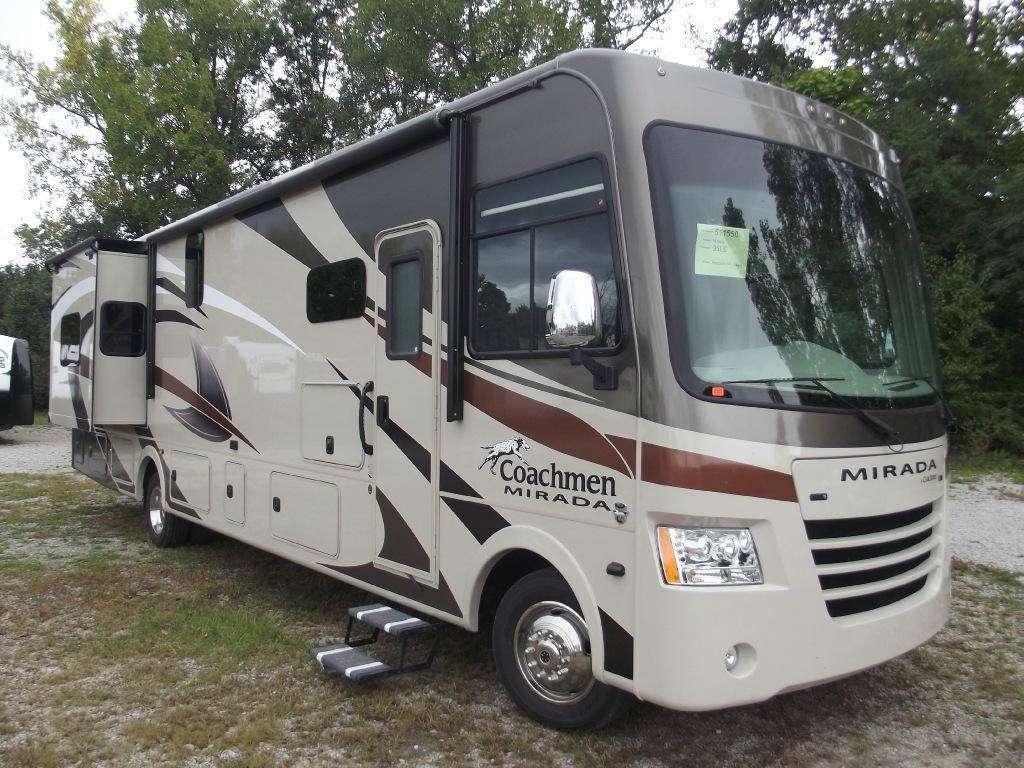 These are usually the biggest RVs on the road.  They are like giant boxes rolling down the road.  One of the benefits of Class A motorhomes is that, not only is everything enclosed in the vehicle, but they can get very luxurious.  Options can include King Sized beds, residential appliances, full size bathrooms, multiple slides, and more
One disadvantage of Class A motorhomes can be their size.  Some RV parks may refuse them if the are too long. Another disadvantage, because of their size, is the potential for lower fuel economy.
Also, if you prefer to drive to other places once your rig is parked you either need to tow another vehicle, or have someone staying with you drive another vehicle.
In some instances you also may need a special license to drive certain class A models.
Class "B" – Camperized Vans

Length:  17 feet (5m) to 23 feet (7m)
Height:  7 to 9 feet (2-2.5m)
Weight:  4,000 pounds (1800kg)  to 12,000 pounds (5400kg)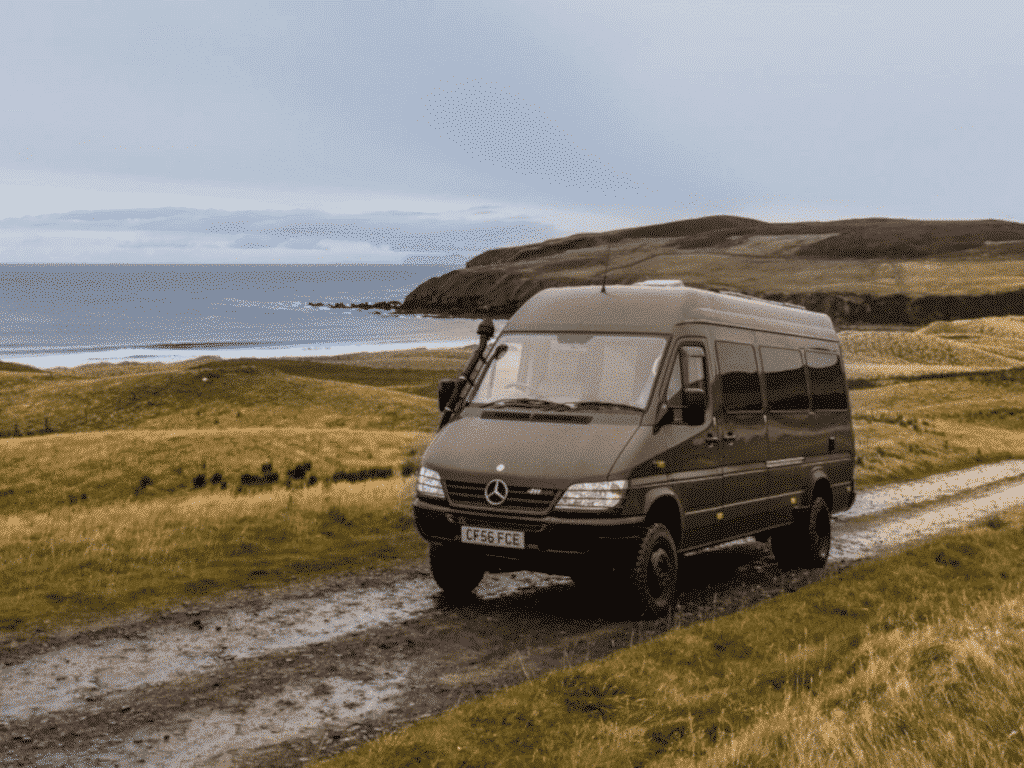 It may seem counterintuitive, but class B RVs tend to be smaller than both class "A" and "C" motorhomes.  They are really mini motorhomes built into the shell of a traditional van. Some have roof caps added to increase the height of the unit.  
They can be sparse – such as just a bed, or may be more luxurious with amenities including:  Queen size bed, small bathroom facilities, a sink, portable cooktop and a cooler or small refrigerator built in.
In terms of cost, these "motorhomes" tend to be the least expensive of the motorhome family.  They are preferred by some people because they may be easier to drive than their larger counterparts, and they generally fit into tighter places, such as parking lots.  They are usually also more fuel efficient than larger motorhomes as well.
One disadvantage of Class B camper vans can be their size.  Because of their size the options available are limited. It also may be difficult for, say, a family to travel and live comfortably in.
Length:  20 feet (6m) to 28 feet (8.5m)
Height:  10 feet (3m)
Weight: 10,000 pounds (4500kg) to 12,000 pounds (5400kg)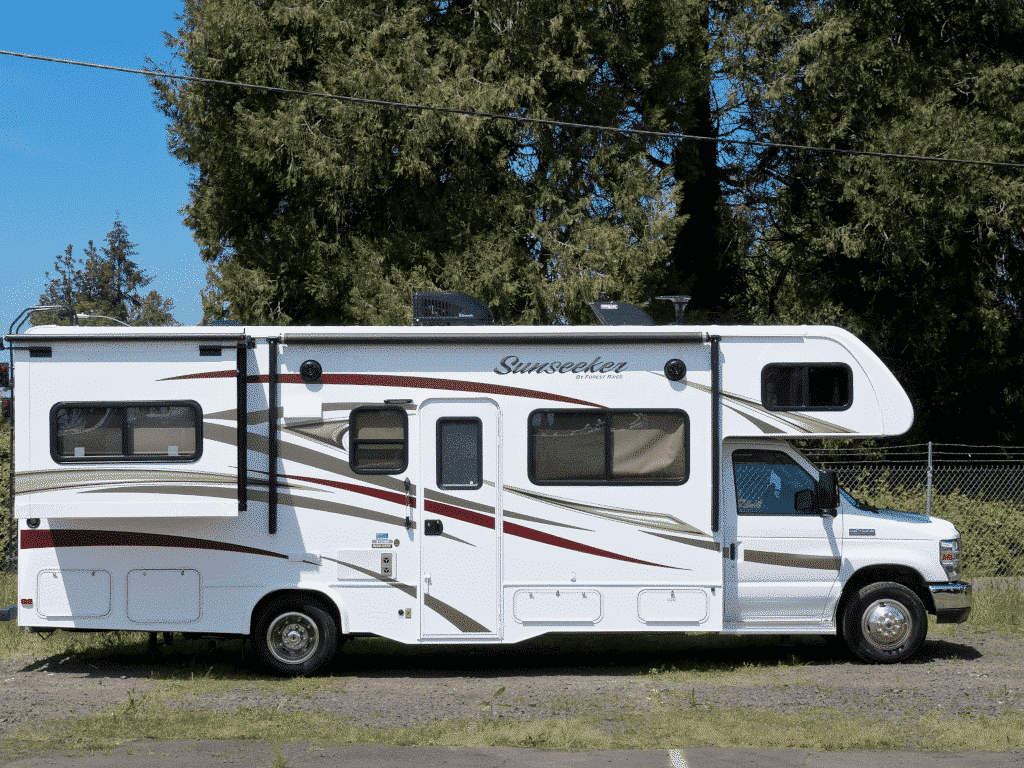 Class C motorhomes bridge the gap between Class A and B.  They are medium sized motorhomes and probably the most well known of the classes.  They have a van or truck front end and camper-style shell on the frame where the rest of the van or truck box would be.
They usually have a bed over the driving compartment, as well as more sleeping accommodations depending on the layout.
They are usually easier to drive than a Class "A" motorhome, and will fit in more RV parks and campgrounds than some larger Class "A" motorhomes, but it isn't as convenient as a Class "B".  Depending on their size they can als have many of the same amenities as the larger Class "A" motorhomes including king sized beds, residential appliances and more.
One disadvantage, as with the Class "A" is that, if you like driving to other locations after your rig is parked, you either need to tow a vehicle or have someone else drive a second vehicle to help you get around.
Another disadvantage, again because of their size, is that they don't fit well into parking lots, and may be harder to maneuver in tight spaces.
Length:  8 feet (2.4m) to 40 feet (12m)
Height:  10 feet (3m)
Weight: 1,000 pounds (450kg) to 12,000 pounds (5400kg)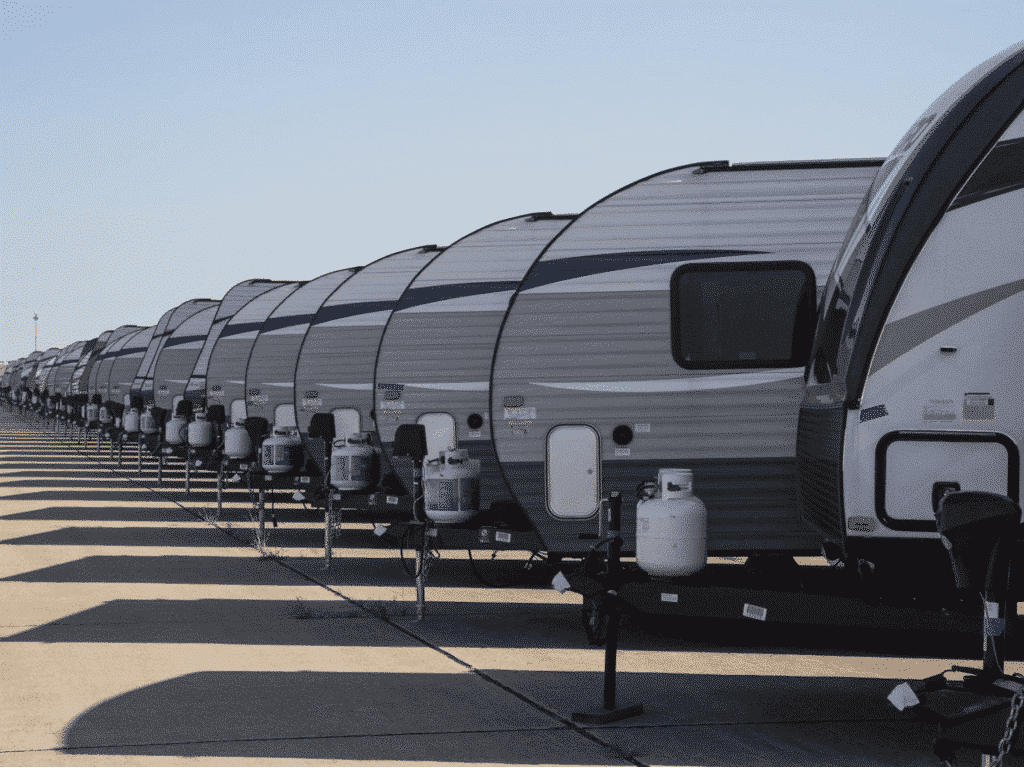 There is probably no other group of RV (except maybe tiny houses) that offer this large a variety of options.
These RVs are towed behind another vehicle using a hitch mounted under the bumper.  Depending on the type of travel trailer you choose, you might be able to get away with towing smaller ones with a large car or small SUV.  Most larger trailers need to be pulled by a pickup.
As with other RVs, these trailers can offer many options and floorplans.
Most commonly used by families, these types of RVs can be ideal for long-term living.
One disadvantage of pulling a travel trailer can be the length.  When pulled behind a full sized pickup truck (for example) the total length of the truck and trailer can be quite large, making it difficult for some people to navigate.  
An advantage a travel trailer has over a motorhome is that it can be detached from the truck and the truck can be used for getting around, rather than towing another vehicle as with a motorhome.
Tent Trailer / Pop Up Trailer
Length:  8 feet (2.4m) to 16 feet (5m)
Height:  varies
Weight: 700 pounds (450kg) to 4,000 pounds (5400kg)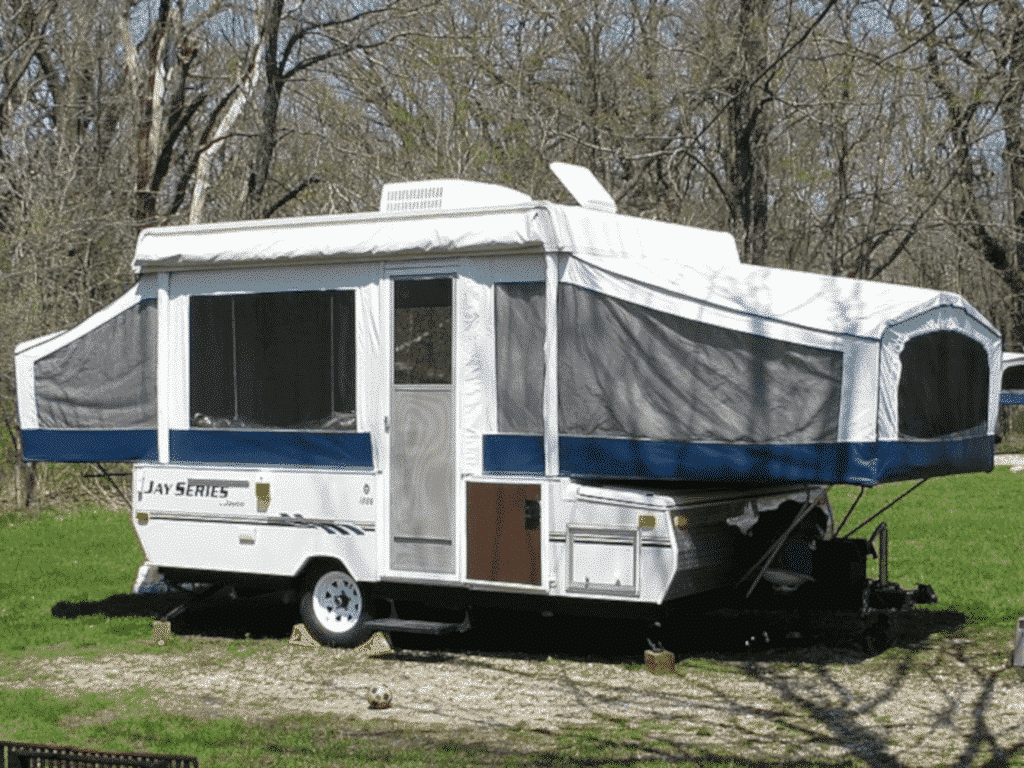 These types of trailers generally fold into themselves to make them easier to tow and store.  This makes them handy for getting into tight spaces.
They usually have 2 sleeping areas and can come with many options including a dining area, small kitchen with a portable refrigerator or cooler, a small cooktop and more.
Disadvantages of a popup trailer is they can be not as comfortable as a more robust RV.  For example, a tent trailer is much the same as a regular tent, you just don't sleep on the ground.
Many are not suited for colder weather either.  While some do have heaters, you still have to deal with a fabric roof and sides which can get damp from rain (for example).
Advantages of these types of RVs include the cost – they are usually easier to get in to.  They ar also very easy to tow, even with a smaller car. In some cases, they can be positioned by hand. So you may be able to tow it to where want it, then move it by hand to it's final parking space.
Another advantage is that, since it can be detached from the tow vehicle, you are free to use your tow vehicle to drive around with.
Length:  22 feet (6.7m) to 40 feet (12m)
Height:  9 feet (3m)
Weight: 7,000 pounds (3200kg) to 20,000 pounds (9000kg)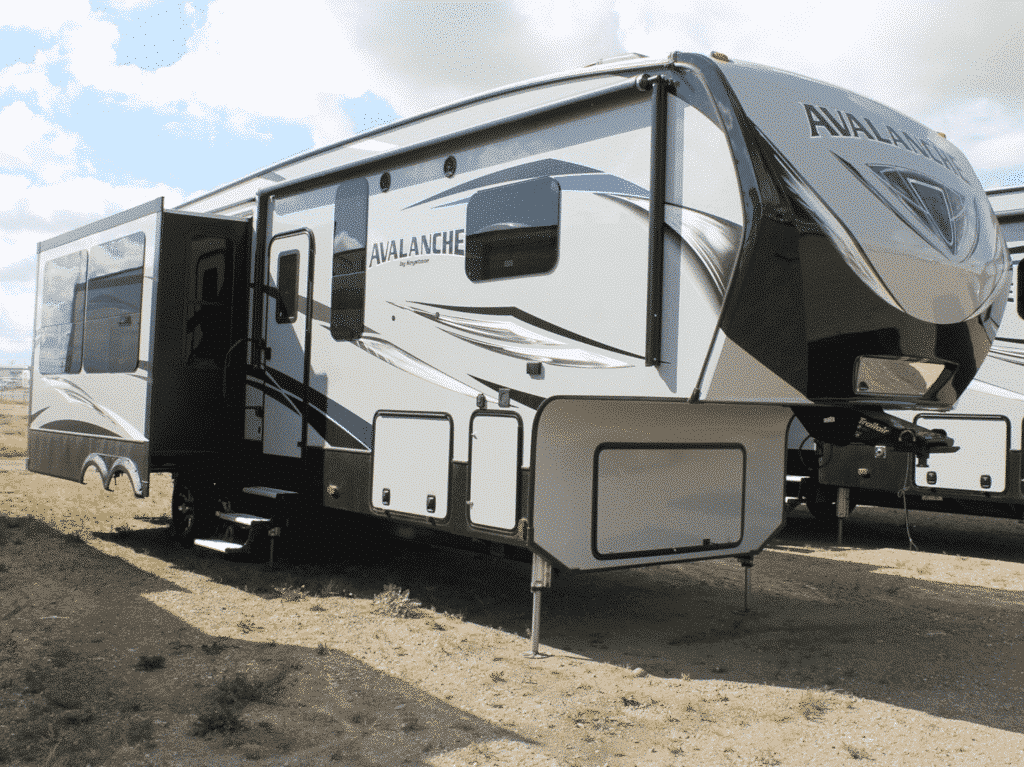 A fifth wheel uses a special hitch which is mounted in the bed of a pickup truck.  In most cases a larger truck (¾ ton or larger) is required to tow a fifth wheel. Also, in many cases a special license is not required to tow a fifth wheel, but you should check with your local licensing office to confirm this before attempting to tow a fifth wheel.
Much like travel trailers, fifth wheels offer a large selection of lengths, options and floorplans.  Amenities can include King Sized beds, large bathrooms, multiple bathrooms, large kitchens with residential appliances and more.
Advantages of fifth wheels include having a vehicle to use after your RV is unhooked from your truck.  Once your rig is parked, you can unhook it from your pickup and use your truck. One disadvantage with this, however, is that the hitch is usually quite large and can take up a significant amount of space in the middle of your truck box, thereby limiting the amount of storage your truck box has.
Disadvantages can include the size of the unit.  Some RV parks may not allow you to park if your fifth wheel exceeds their length requirements.
Another disadvantage may be that you have to buy (or borrow) a pickup truck, or buy or borrow a larger truck, depending on the size of the unit.
Length:  varies
Height:  varies
Weight: varies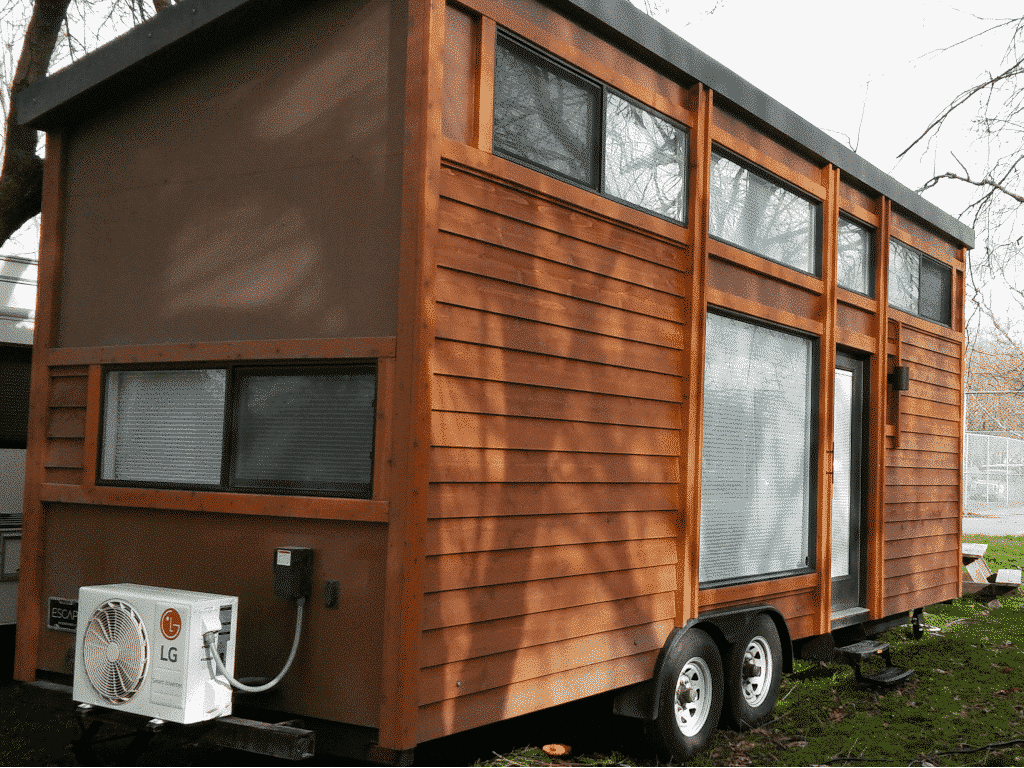 A tiny house (or small house) is essentially a custom built building sitting on a towable trailer of some kind.  They can be similar to a travel trailer, or a fifth wheel trailer, but resemble a regular home and not an RV.
They are usually constructed with more traditional building materials, much like a regular home, but on a smaller scale.
The biggest advantage of a tiny house is cost.  Some tiny house owners even build their own, and in some cases most of the materials are reclaimed or recycled, thus lowering the cost to the bare minimum.
Another advantage of a tiny house is that, because they are built from scratch, there is no limit to the amenities you can put in them.  For example, there are very few RV manufacturers that put full sized bathtubs into an RV, but in a tiny house you can.
Many tiny houses come with residential appliances.  Plus there can be many space saving techniques such as using murphy beds, or other ways of multiplying the use of the space.  (for example, a table that folds into a desk, or folds up against the wall when not in use).
A disadvantage of a tiny house is that some are not built with holding tanks for water and sewer like an RV.  Therefore you MUST be hooked up to either residential service, or park in an RV park that has full services.
Another disadvantage may be that you need to purchase large pickup truck to pull a tiny house, depending on its size.
Yet another disadvantage is that some RV parks will not accept a tiny house.
Length:  from the length of your truck box, to a few feet over
Height:  9 feet (3m)
Weight: 1,000 pounds (450kg) to 5,000 pounds (2200kg)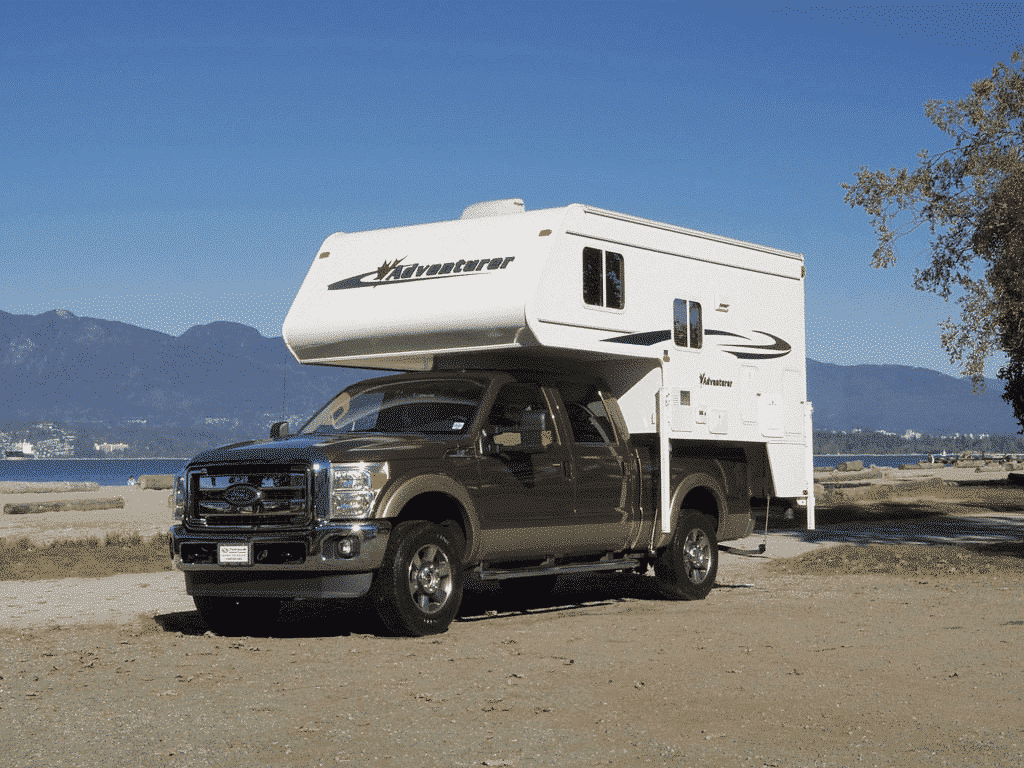 Truck campers typically slide into the box of your pickup truck.  They are then attached with chains or heavy straps to secure them. You usually need a larger truck to haul one around, so be sure to check with your local laws to find out if your truck is big enough.
Truck campers are ideal in situations where you can easily get in and out of where you are parked.  They can be perfect for a single person or couple just starting out because they are better insulated than a popup or tent trailer, may have more amenities than a Class "B" campervan and easier to maneuver than a travel trailer, fifth wheel or motorhome.
They typically have a large bed above the truck cab and have other amenities such as a kitchen, small refrigerator, cooktop and dining room table that folds into another bed.  Some truck campers also have a small bathroom that may even have a shower.