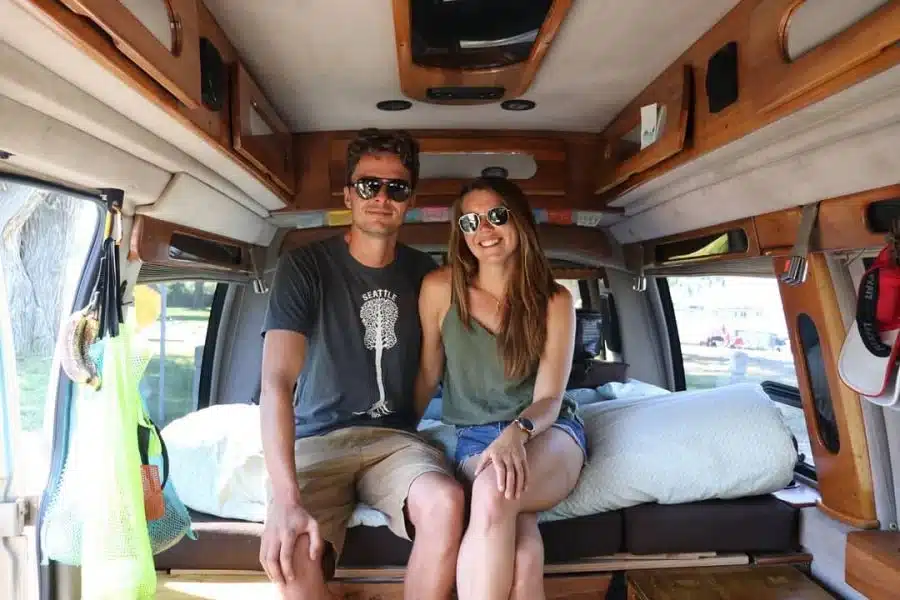 Braden Taylor and Lyndsay Fillier have been living the van life since 2017.
They spend their summers at home in the Okanagan and then take to the road in the winter, documenting their adventures through their Lifeat90kph social media accounts.
Typically their updates are fun and full of life, detailing their life on the road that many of us can only dream about, but that was not the case over this past week.
Instead, they took to social media to share the harrowing details of being carjacked at gunpoint by heavily armed men last Monday while camping in central Mexico.
"Some men pulled up in stolen vehicles, heavily armed and with bulletproof vests, and they took everything we own," Fillier explained.
All of their belongings were inside the van when it was stolen, including their entire 'Memories From Mexico' Etsy shop, and the suspects took their phones and other important items as well.
As the couple processed what had just happened to them, two large police trucks arrived at the scene and heard their story.
One of the officers drove them safely back into the nearest town, while the others took off in hot pursuit of the suspects.
"It's especially tough because just hours after that happened, while we were waiting in the town, we discovered that four of the police officers who were in pursuit of these people were injured and one was unfortunately killed," Fillier said while fighting back tears.
"We feel very fortunate that we are still alive, but we are of course devastated."
While there are certain things in the van that are irreplaceable, like photos and other similar material from their travels, Taylor and Fillier have started a fundraiser to try and get back on their feet.
"For those of you that know us, the van was not just a vehicle, it was our home abroad and in Canada. In addition to the van we lost all of the photos of our incredible journeys, all of our clothing, shoes, computer, electronics and every single item in our Etsy shop (which was our hope and plan for a future of financial independence)," the fundraiser explains.
"More than that, we feel like we lost a member of our family, the MVP of Lifeat90kph, our beautiful and beastly GMC Savana. Our hearts are broken, we feel lost and we need help. It humbles us to reach out to you all in our hour or need."
But they certainly have not forgotten about the police officer who was killed while trying to help them, who leaves behind a loving wife and six children. The couple has also set up a separate fundraiser to raise money for the fallen officer's family.
"The objective is to provide the family with ongoing long term financial assistance," it reads. "We would like to raise enough money to contribute to the education of his children and their upbringing. Any amount, big or small, is greatly appreciated."