Recently I came across this article that highlights some of the struggles of living in an RV. And while some are valid points, (such as 5 minute showers) some are not. So I thought, why not address each issue in an article of my own.
Now, we aren't experts in full time RV living, but we are close.  We've been living in our RV for most of the past 7 years.  We've taken breaks for various reasons, but have also lived in a few different RVs over the years.  So we do have enough experience to address some of these issues.
But, besides that, this isn't an article bashing the other author's points. Because he does have some valid ones.  But I wanted to take an alternative view on his points and wanted to turn them around.
So, I give you:  14 great things about living in an RV that no one tells you.  here they are: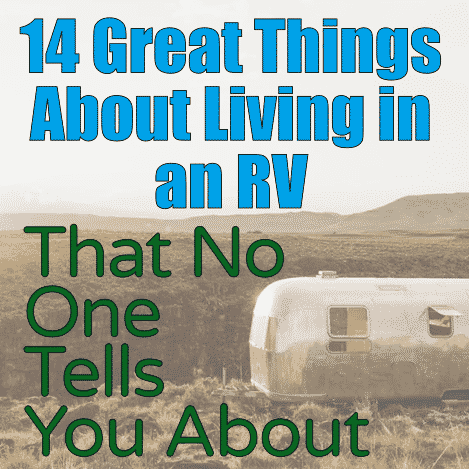 1) You feel like you're a giant in a bathroom made for elves.
Ok this one I can agree with, to a point. True that some RVs have impossibly tiny bathrooms, but have you looked at some of the newer ones coming out? I have seen fifth wheels with bathrooms bigger than my first apartment! Now granted, most RVs must maximize space, and the bathroom is one of those places where they economize. But manufacturers are getting better.
Just look at where we are and where we came from. In our first RV the bathroom really was tiny. It was like what you see in some larger truck campers. Also called a "wet bath" where it seems that the bathroom sink (if equipped) and toilet were built into a shower stall. It was very tight. And one of the first things I did in our little Scamper was remove the bathroom sink. It was useless (because the kitchen sink was right across from the bathroom, so we ended up washing hands there) and really in the way if you wanted to use the toilet.
Flash forward a few years and now we live in a motorhome with a standard RV toilet, but our RV has something unique – a bathtub. No not a full-sized tub like in a home, but it is still something you can get in and fill up (after a few cycles of the water heater) and have a soak.
My point here is that you don't need to sacrifice comfort for utility. You can have both in an RV, you just need to be patient when shopping for an RV.
2) The shower only stays hot for five minutes.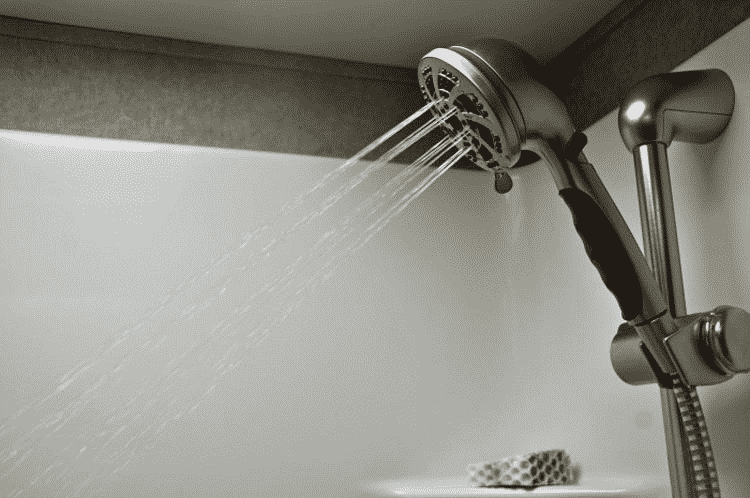 I can agree with this one, again to a point. If you have a typical hot water heater, then you probably already know that yes showers need to be shorter. But there are ways you can extend your shower.
For example, we put a water saving handheld shower in all our RVs. We also have a shutoff valve within the hose (between the hose and shower head). This way you can turn the water off and on for when you soap up (for example) or wash your hair. Using the shutoff, you can extend the length of your shower by double or more if you plan correctly.
Here's one way you can do it: 1) once you get the temperature set, turn off the water via the shutoff and soap up. 2) Turn water back on and rinse off. 3) Next, wet your hair and turn off the water again. 4) Shampoo up, then turn water on to rinse. 5) If you condition, repeat the last step. Keep doing this (turning off water between showering activities) to extend your shower and give you plenty of hot water.
And, as with my other points, newer RVs are much better. Some have larger tanks, while others now have "on demand" hot water.
3) It's almost impossible to cook anything in the stove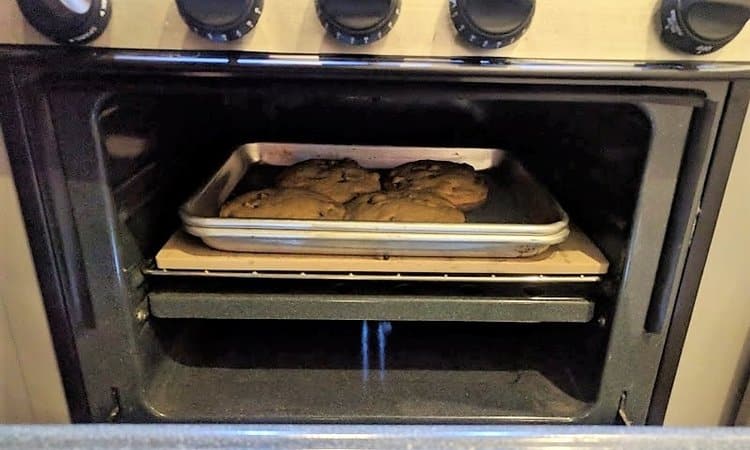 While it is true that many RVs have smaller ovens, that does not mean "its impossible" it just takes a little planning. Besides, when you RV you are supposed to spend your time outside (That is a rule written somewhere isn't it?). So why not plan to cook outside as much as you can?
But if you must cook inside, I suggest taking some small appliances with you. For example, we have an air fryer, a small toaster oven, an instant pot, and a slow cooker. Using these appliances, we rarely use our oven. In fact, I think it was probably six months before I lit the oven for its first use.
4) You have to go grocery shopping on almost a daily basis.
This one I disagree with. Again, it all comes down to planning. Sure, an RV fridge is smaller, but in some newer ones you have a full sized residential fridge in the RV. In fact, many newer ones have that as an option. But even if you don't upgrade your fridge, you can still plan on using the small RV fridge and be comfortable.
First thing is, don't put your alcohol in the fridge as it takes valuable space you should use for food. I know the beer is pretty valuable to some of you, but that's what coolers are for.
Speaking of coolers, having an extra cooler or 2 is also recommended. We have a few coolers which each have a purpose. We have 1 that runs on 12V or 120 and works like a small refrigerator. It's like our "overflow" if we do happen to buy more food than we need. And if we don't then it makes a great beverage cooler. We also have a soft sided cooler which has wheels so it can go with us, plus we have a few smaller ones for, say, going on picnics or out on the kayaks for a day.
If you don't want to pack around extra coolers, perhaps you have some storage you can convert. We did this with our old Scamper. We turned the space under one of the dinette benches into a cooler using Reflectix. I just lined all 4 sites, as well as the bottom, with Reflectix. Then added ice and it became a rather large beverage cooler. The nice thing was that the ice lasted 3 or 4 days. Had we put blocks instead of cubes it would have lasted longer.
5) You have very little privacy when you're in the camper
This is true and does become more noticeable, especially if you live with someone fulltime (or even part time) in your RV. After all, even a larger RV is still only a couple hundred square feet of space. By the time you take out the washroom facilities and kitchen, your usable space is even less.
But that does not mean you don't have any privacy. Some smaller RVs are harder to maintain privacy but not impossible.
For example, in our motorhome we put up a curtain between the bathroom and bedroom. This provides a little extra privacy and comes in handy when you more than 1 person is getting ready for an outing. Curtains are a great way to provide you a little more privacy, especially in a small space.
But, again, the joy of living in an RV is being able to enjoy the outdoors as much as you can. One person can be inside while another is outside, or you can both go outside and do different things.
But, that being said, when it does become more noticeable (and challenging sometimes) is when the weather turns and you are forced to be inside. When it's raining out (or worse, snowing) you are pretty well stuck inside. But then again, if you have an awning you might consider rolling it out, even if it's raining, as it will give you additional dry space to get away from each other if you must.
6) It can be difficult to sleep at night because of the noise.
There is an easy fix for this and it doesn't cost much.
The easiest is ear plugs. I remember we took our Scamper to a music festival one year. The first couple nights we basically stayed up as late as we could so we could pass out because it was just so noisy. It was a 24 hour/day party that lasted 3 days (5 for us as we went a day early and left a day late). After night 2 we were beginning to question our sanity. But that was until we met a "veteran" of the music festival and he gave us a couple pairs of ear plugs. I slept so good that night…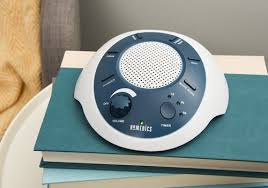 But if you do not like ear plugs (as many do not) you can use noise makers. White noise, or some other noise that your mind can focus on, that drowns out the campground sounds around you.
If you don't want to rush out and buy one, you can download apps on your phone, or personal assistants like the Google Assistant, have "built in" commands. For example, in addition to the noise maker we bought at Walmart, we also use a Google Mini with the command "play the sound of a babbling brook" which produces the sound like a running creek.
My last suggestion, if noise really bothers you, is to NOT camp at a campground. Find a nice piece of bush somewhere where you can park. Most provinces and states allow you to camp on their lands for free or cheap.
7) Life on the road means it can be tough to guarantee strong WiFi signal at all times.
This one I can agree with, based on experience. Granted most of us have cell phones with data these days, but phone data can be expensive if you rely on it. Most campgrounds do have WiFi these days, but when that campground fills up (and especially at night) the internet slows to a crawl. This is usually due to parents telling their kids to "go lay down and watch Disney+" or something like that.
If you plan on staying at one place for an extended period, you can probably find a provider to give you month-to-month internet access. Granted it usually costs more this way, but on the other hand you are not tied to a contract.
The future, though, is bright (at least in Canada). While we already have a few satellite internet providers, they aren't very RV friendly. That is because they require the receiving dish to be stationary. So of course that makes it impossible for an RVer who wants to hit the road. Combine that with slow speeds and low data caps and current satellite internet providers aren't necessarily the best option.
However, we have heard of not 1 but 3 different NEW companies hoping to provide internet via LEO (Low Earth Orbit) satellites. This could be a game changer for full time RVers.
One of the most famous is Starlink, owned by Tesla's Elon Musk. As of the writing of this article, they were hoping to launch their internet service later this year, provided their licenses are approved by the Federal Government. Once this happens, we may soon all be able to access super fast satellite-based internet that will work ANYWHERE in Canada (at least that's the claim). More detail will be needed, however, such as will an antenna mounted on an RV work? Or will it need to be stationary like other providers?
8) Not having a dryer or washer can also be frustrating.
This is a definite concern for RVers everywhere, whether you are fulltime or part time, laundry never ends.
However, some newer RVs are being outfitted with washer's and dryers, or at least have the services set up so you can install your own machines.  But even if your RV does not have, and is not set up for, laundry facilities, there are still options.
The most obvious is a laundromat.  The nice thing about using a laundromat is that you can use more than 1 machine at a time if needed.  Unlike at home where you could spend all day just catching up on laundry from the previous days, with a laundromat you can use 2 or 3 or even more washers and dryers, assuming the laundromat is not so busy.
We have done that in the past – take several days worth of laundry to the laundromat, take over 2 or 3 washers then 2 or 3 dryers, and all the laundry can be done in about an hour.  Much shorter than spending all day with just a single washer and dryer.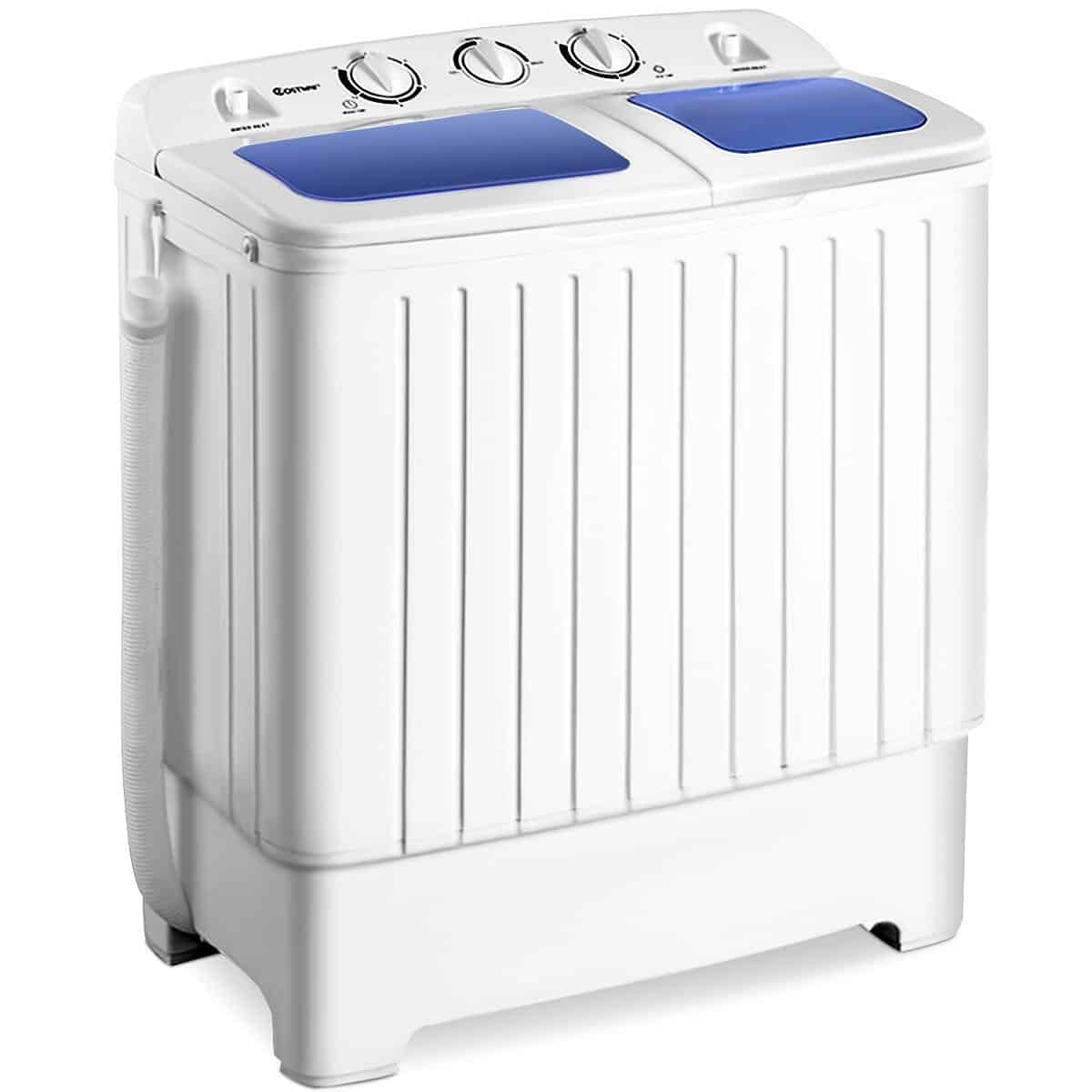 There are other options, though.  For example, we recently purchased a small washing machine (similar to the one above) that washes on one side and spins out the clothes on the other.  Just add soap and fill with water (we do this outside using a hose), and then just use a clothesline to dry.  This method does take longer than going to the laundromat, and we can't do larger items like blankets, but for clothing and even sheets, it works great.  Best of all there is no extra cost and there's no hunting for "one more quarter" to finish the laundry.
9) There's no disabled friendly way to get in the camper.
This one I agree with.  Most RVs are not set up for disabled persons.  But that too is changing.
We recently showcased a wheelchair friendly Winnebago.  This RV offers many customization options, such as a platform wheelchair lift with an 800-pound lifting capacity, or a powered roll-up lift door for wheelchair entry and exit.  Other wheelchair enabled features include wider hallways, a large shower that one could roll their chair into, with an assist bar and folding bench seat, a raised toilet with assist bars, and a roll under sink.
10) Hauling the camper to a new location can be an expensive trip.
Well, this is just one of those necessary annoyances of RVing.  Yes, you must spend money to get where you are going.  Even if it is just fuel, it is generally more expensive to take your RV where you want to go, rather than just driving.  And then of course there's general maintenance.  If you own a motorhome you have a drivetrain to look after. Tires to buy, etc.  But those costs are generally not much more than, say, maintaining your daily driver.
And there are other expenses which you may not think of.  Camping is a big one.  It is not uncommon to spend up to $100/night or even more, for some of the high-end RV parks.  But in our experience, most campgrounds are roughly ½ the cost of, say, staying in a hotel room for a night.
We recently got back from a few nights camping and it was about $65/night for a fully serviced, level, pull through spot near the beach.  Not bad considering how popular an RV park that one is.  It was full too, despite Covid-19 warnings, but from what we saw people were safe distancing.
But if you want to save some money, you don't have to stay in an RV park.  Boondocking is a great option.  That is where you find a place of bare land and park there.  There are no services, but there may also be little to no cost.
If you are new to RVing then the costs may be even higher.  While new RVs come with a power cord, some don't have water hoses or sewer lines.  You also usually don't get your "staples" – dishes, pots & pans, blankets & sheets, bathroom essentials and so on.  So, you have to either move things from your home to your RV, or purchase a second set of what you need.  The good thing is second-hand stores and garage sales are great places you can find those things you might want to keep in your RV.
11) Towing a camper can cause wear and tear on your vehicle.
I will agree to this one.  It's just one of those things you may have to prepare for.  But if you keep your vehicles and RVs maintained, and don't push is while you are driving down the road, you can minimize the wear and tear.  In other words, don't race up hills trying to pass everyone while pulling your toy hauler.  Sure, your truck may be able to handle it, but part of the fun of RVing is the drive and not just the destination.  So, take your time, enjoy the drive and save your vehicle.
12) When something breaks on your camper it can be difficult to fix.
While this one is true as well, in reality this affects most things in your life.  Whether you just use your RV for camping, or you live in it full time, there are bound to be things to fix.  But the same holds true if you live in a "sticks and bricks" home.  Furnaces quit, windows need to be replaced, shingles fail.  Just like your home, your RV will need work at some point.
Where I disagree is the word "difficult".  Most RV repairs can be undertaken with basic tools and either a working knowledge of what you are trying to repair or, YouTube.  I cannot tell you how many problems I've solved by searching YouTube.  The biggest thing that I was able to do thanks to YouTube was replace our water heater tank. It froze and split one extremely cold winter, so I had to replace it as we did not have water in the rig temporarily.
I searched YouTube for the make and model of my heater and found a step-by-step video explaining how to remove the old tank, switch the required components from the old tank to new, and then reinstall and hook everything up.  It took several hours, but it was worth it.  The sense of satisfaction I had after completing such a huge job, with no clue how to do it when I started, was great.
My point is, don't be afraid to try to fix it yourself.  You can end up saving yourself a ton of money and will have a huge sense of satisfaction in taking care of something that you never knew you could.
13) Wait there's only 12?
As you may have noticed, there are not 14 things but 12, that I have addressed.  That's because there were 2 in the original article which were related to other points and I did address those in my points.
We do understand that RVing can be overwhelming at first.  After all, you are hurtling down the highway driving or pulling a vehicle that could be 2, 3 or even 4 times as heavy as you are used to, as well as wider and longer than you are used to.
But as time goes on, you will become more confident in your abilities.  As you begin to learn all about your RV and the unique squeaks and creaks, you begin to realize that yes you can in fact really enjoy your RV.  It is not just about camping anymore.  Try and enjoy it and don't let the "little things" get to you.