In a sea of boring RV design, there's nothing better than an innovative camper that challenges the industry on what an RV can look like and what it can do. We've seen campers covered in solar panels, new takes on interior design, and even one camper that transforms into a boat.
We've also seen innovation in the world of teardrop trailers, too, like this spaceship-like version of a polygonized teardrop. The latest to catch our eye is New Mexico-based startup Earth Traveler. Unlike the rather sturdy and compact teardrops we often see, the Earth Traveler uses a skeletal frame of lightweight composite that makes for an airy and breezy design. And while we've reported on lightweight campers in the past, this just might be the lightest trailer we've ever covered.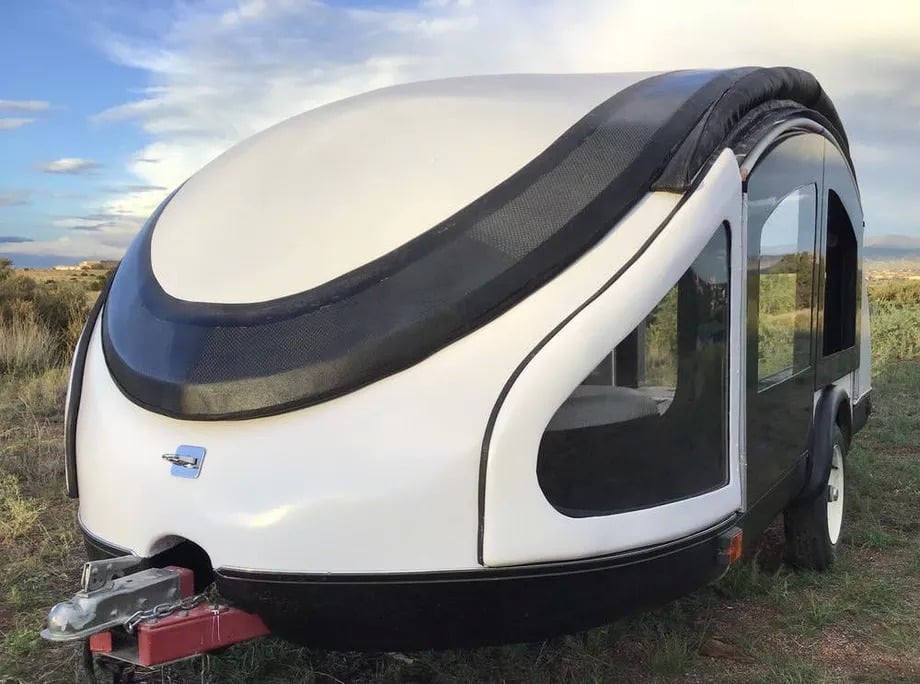 As New Atlas reports, founder and artist Angel Irlanda sought to design a camping shelter that could be towed by his Fiat 500. That might sound implausible, but Irlanda redesigned the teardrop shape into a larger, more symmetrical shape that was inspired by "avian structures." A prototype was made out of wood and fiberglass, and now Earth Traveler is planning to launch two different teardrop models.
The first will be the T250LX, a full carbon, four-person fiber trailer with an estimated weight of around 216 pounds and an asking price of $30,975. The second model, called the T300, is more affordable, costing $10,000, thanks to a feather-based composite made from chicken feathers and resin. This material will provide insulation and weather protection, while load-bearing structural elements will be made out of traditional composite and Corecell. The T300 hopes to measure-in at an impressive 298 pounds.
To put that into context, lightweight trailers are usually considered campers that are under 2,000 pounds. Trailers under 1,000 pounds are featherweight, think of the SylvanSport Goor the Taxa Tigermoth. If Earth Traveler can even get close to the 300-pound mark, it would be impressive.
In order to keep the weight down, the Earth Traveler is basically a traveling tent platform—an adaptable shelter with few amenities. The trailer features two hinged wing panels that open at the front and rear to expand interior headroom and space. Mosquito mesh will help to control bugs, and like many simple designs, customers will be able to add on compatible tents to increase their living space.
The trailer is essentially an empty shell, although kitchen amenities, UV awnings, and off-roading components are available as add-ons. Like the Sylvan Sport Go trailer, this shell will also be capable of hauling gear and cargo. Of course, Earth Traveler is at the beginning stages as a company, currently working on its first production model.
Still, the fact that a new trailer will be so lightweight that it can be pulled by mini or electric cars is significant. In 2018, Germany-based camper manufacturer Dethleffs debuted a camper trailer that was 100 percent electric. The camper uses a floor-mounted lithium battery, rooftop solar panels, and a dual-motor axle instead of a regular 'ol tow package.
Why would a trailer need to be electric, you ask? It's not as if it has an engine. Dethleffs says that adding electric motive power will decrease the towing demands of the camper and make handling better while driving. This makes sense because the 80-kWh battery pack sends power to the electrified axle, essentially making the camper spin its own wheels and cutting down the tow load on your vehicle.
In an era of increasing environmental concerns, innovations in weight (like the Earth Traveler) or electrification (like the Dethleffs concept) are the future for campers.