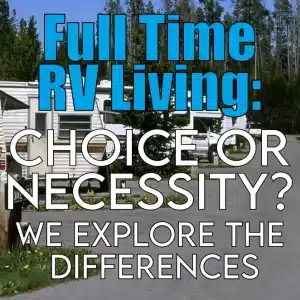 If you've visited our website before you know that our focus is on Living the RV Life. What that means to us may be different than what RV living means to you. While we tend to focus on the travel aspect of living full time in an RV, there are an increasing number of people who choose to live in their RV stationary – meaning they live in an RV park, or on a piece of land full time in their RV. There are also an increasing number of people who are doing so, not necessarily by choice, but by necessity.
The cost of housing is out of reach for many people, while in some markets, where the vacancy rate is approaching zero, living in an RV may be not only the most affordable option but the only option.
In this article we look at a few of the reasons why some people are turning to the RV life.
The Socioeconomic Landscape
The widening gap between housing prices and average incomes is palpable. In cities like San Francisco, New York, and Vancouver, even a decent one-bedroom apartment can cost more than a luxury RV. For those who have lost their homes due to financial hardships or personal tragedies, an RV can serve as both a shelter and a symbol of hope.
But it's not just about affordability. There's a flexibility to RV living that traditional housing doesn't offer. In cities or towns where job prospects might be volatile, being able to move at a whim can be both liberating and practical.
The Reality of Stationary RV Living
While some have romanticized the idea of full-time RV living, imagining wide-open spaces and the freedom of the open road, the reality for many is quite different. Many stationary RV dwellers reside in RV parks or even on the streets. These aren't the picturesque camping spots by the river but often crowded, noisy, and sometimes unsafe areas.
Utilities, too, can be a challenge. While RV parks often offer electric, water, and sewer hookups, street parking necessitates frequent moves to dump waste or refill water tanks. In extreme weather, an RV – especially an older model not designed for full-time living – can be too hot or too cold.
——-
Consider the story of Carrie Steeves and a group of nine other people living full time in RVs in a campground near Halifax.  However, the campground is due to close for the season soon. That means all these people will need to find other permanent parking for their RVs.
But, as with many places, there are no other vacancies in other RV parks.  The other RV parks are either already full with other full timers, or they are closed or closing for the season.
The only option for RVers like this is to stealth boondock (IE finding a quiet street in an industrial area to park) or hope the Halifax Regional Municipality will work to keep Shubie Campground, the only fully serviced campground within city limits, open throughout the winter so they'll have somewhere to park their RVs.
Stigma and Challenges
One of the most daunting challenges RV dwellers face is the societal stigma. Neighbors and local businesses sometimes view them as nuisances, with local ordinances limiting where and how long RVs can be parked.
——-
Take the case of the property owners "Victor and Sheila MacDonald", who own a piece of property in the small hamlet of Peachland, British Columbia, Canada.
The property owners have been living in their RV for 2 decades on the property which they own.  At the time, the local mayor gave them permission to live like this, despite there being local bylaws to the contrary.  Things were great and they got along well with their neighbors, but then something changed.  Someone complained.  And, as with most bylaw enforcement actions, all it takes is a single complaint.  And this was the case here.  The town received a complaint, so bylaw officers investigated and determined that, despite a previous mayor's approval, and despite living like this for 20+ years, the couple was forced to apply for a variance to local bylaws.   If the local council approves the application, the couple would only be allowed to occupy an RV on the property for two week intervals between May 1 and Sept. 30.
——–
The challenges extend to personal well-being too. The confined space can test the limits of one's mental health. Plus, the lack of a permanent address can hinder job applications, accessing medical care, or even just receiving mail.
Not to mention that even IF you can get mail delivered to an RV park (which is rare, and becoming even more rare by the season) many government agencies will not accept an RV pad as a "permanent residence" or address.
Finding Solutions
Recognizing the increasing number of stationary RV dwellers, some municipalities are creating designated parking areas with security and utilities, turning challenges into opportunities for community building.
Non-profits, too, are stepping in, converting unused spaces into safe parking areas for RV dwellers, complete with restroom facilities, communal kitchens, and social services.
But, just like the housing crisis we are currently going through, none of these solutions appear to be happening very soon.  Even as I type this, we are sitting in an RV park which is technically supposed to be closed for the season. However, there are ½ dozen RVs in here which expect to remain here through the winter.
Luckily, we have other winter plans, but if we didn't, we would be looking for a place like this.  A place to park and hope the neighborhood doesn't complain, so that this tiny, family run RV park doesn't get shut down like so many in our area which have already been closed, never to re-open.
A New Perspective on RV Living
While RV living evokes thoughts of adventure and exploration, the growing trend of stationary RV living is a testament to the changing socioeconomic landscape. But rather than just seeing it as a last resort, perhaps it's time we view it as a viable alternative to traditional housing, embracing the communities and resilience it fosters.
Imagine how long it takes to build a condo building – 3 years? 5 years?  Now how long to put in an RV park – weeks to months and you can provide dozens of fully serviced full time RV spots on the same plot of land which you'd be building those ultra expensive condos that only the rich can afford.
As the narrative of RV living continues to evolve, let's remember to approach it with an open mind and compassionate heart, recognizing the myriad reasons one might find themselves calling an RV 'home'.
Share your full time RV living story with us!  Have you had any problems finding or maintaining parking for your RV?  Do you live in it full time? If so, what are your thoughts?