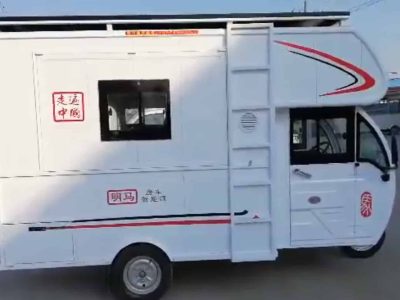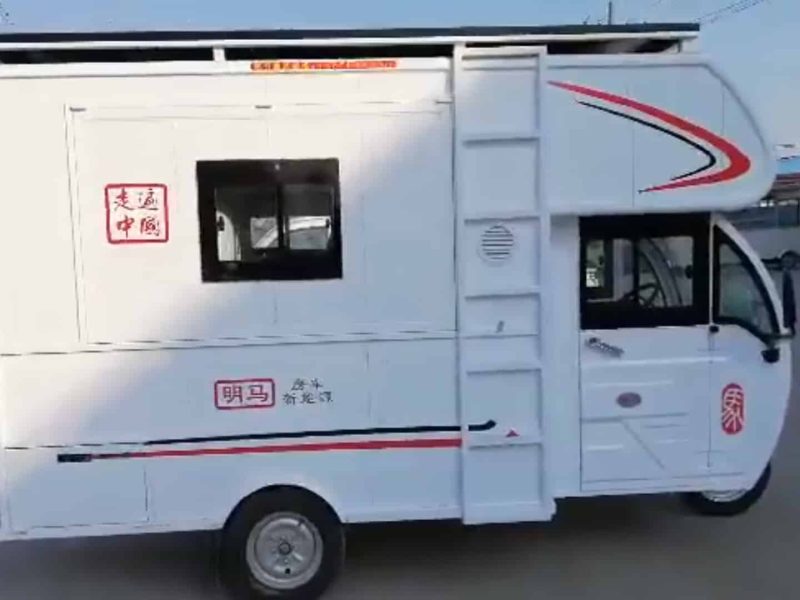 Over the past few weeks, the phrase "social distancing" has grown in popularity, and for necessary reasons. Its a construct used to describe physical distancing from others in order to help combat the spread of the deadly coronavirus. It's in times like these, while hunkered down at home (or so we hope), that our minds begin to wander and remind us about how much fun traveling is. And what a better way to discover foreign lands than by RV—because a three-wheeled Tuk Tuk with a tiny camper shell counts as an RV, right?
Meet the Xinge RV, a three-wheeled motorhome manufactured by a niche Chinese vehicle maker called Henan Xinge Motorcycle Company. Xinge makes a myriad of vehicles with three wheels ranging from personal transport to sanitation trucks, but this tiny house on wheels is your true getaway from the monotony of 2020. It's your key to self-isolation while also filling your void for traveling. And the best part? You won't have to set foot outside of your personal bubble.
The exterior looks like a mashup of a traditional RV and a Tuk Tuk. While different versions of the RV exist from the same company (one boxier than the other), they all have similar characteristics: three wheels, the aerodynamics of a cinder block, and a paint job in traditional RV beige with whimsical decals on the sides. Some even have solar panels outfitted to the roof to generate power.
It's an actual roadworthy vehicle that you can drive—albeit a term used rather loosely here. Xinge says that its 1,400-pound RV is fully electric and is capable of traveling at speeds up to 25 miles per hour. That's not a typo.
Perhaps the best thing about the RV is just how cheap it is. Xinge will sell you one vehicle for $4,900 and it offers a discount if you're looking for a fleet of three or more. Looking to start a portable Airbnb? No problem. Commit to purchasing 50 or more and Xinge will even plaster your logo on the vehicle and packaging. We're not sure how these would fare with importing into the U.S. but these cute little people haulers are quite literally the ultimate way to self-isolate.
The company also notes that its electric motor is powered by a small 7.2-kilowatt-hour battery, but doesn't tell us how much range the RV will cover. For comparison, its battery capacity is around 10 percent of the pack found inside of a Tesla Model 3. Its 60-volt system makes no mention of fast-charging, so we expect traveling long distances will not only take quite a while but also result in an unprecedented number of lengthy stops.
Opening a door reveals quite the polarizing interior, with white block walls, a faux-drop-ceiling, and even woodgrain paneling greet you. Some models are equipped with imitation marble tables, while others have a small counter to make for increased space. Amenities include a small flat-screen TV, portable air conditioner, and a minibar-sized refrigerator. To top it all off, one of the examples that we came across even had a shower.
Power is supplied via an on-board generator and fuel tank. The seller noted that the RV was once available as a gasoline-powered version, so it seems quite easy to retrofit a power source like a generator in place of the internal combustion engine.
This 9-foot-long RV is said to fit three passengers, but the singular front seat tells us that Xinge is probably counting its combination sofa-and-bed as a place for two passengers to sit, despite there not being seat belts immediately visible.