A Tennessee couple use their woodworking skills to bring a dated motorhome back to life.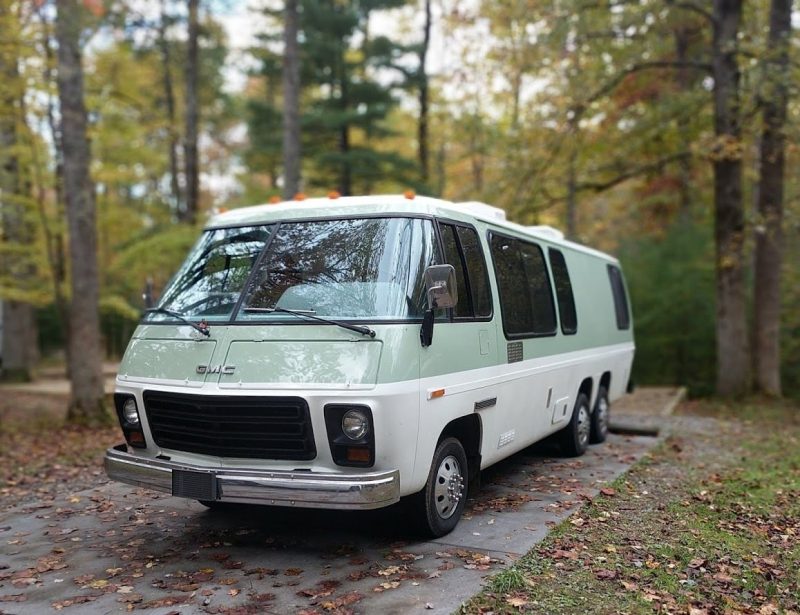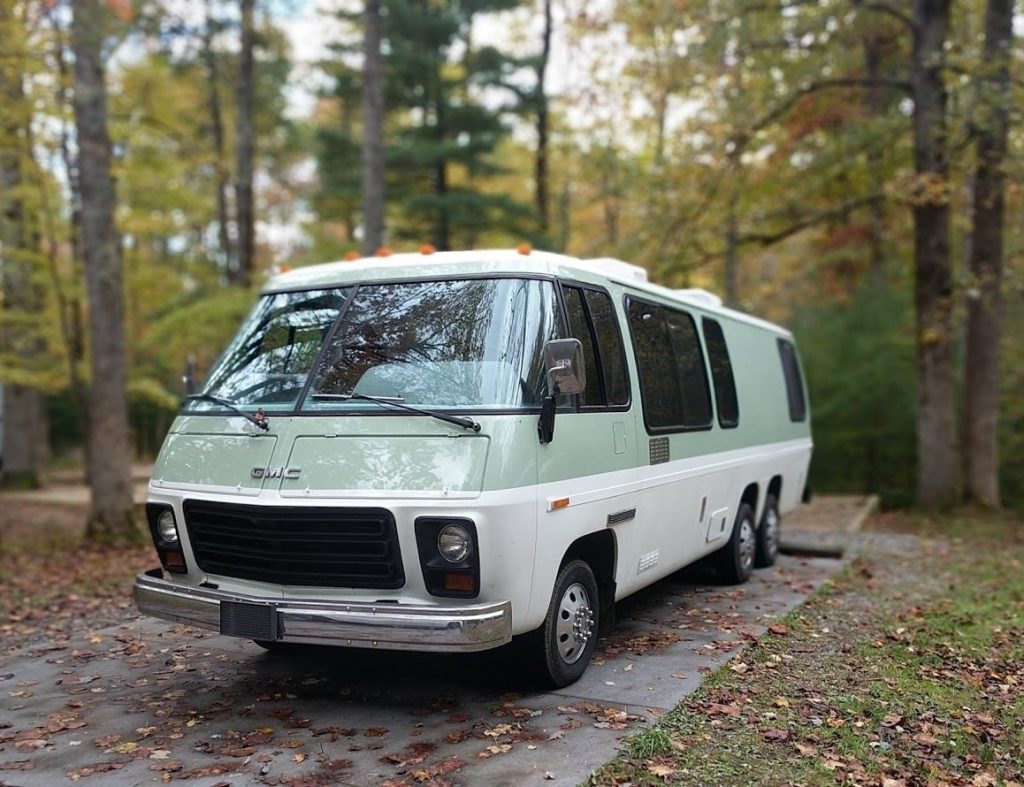 Woodworkers Justin and Kathleen Brady from Bell Buckle, Tennessee, transformed a 1976 GMC Motorhome into a mobile dwelling to be used for weekend getaways and their annual pilgrimage out west. The couple had to work meticulously to make the most of the 150-square-foot space, and they got creative with cabinetry and millwork throughout.
The 26-foot RV now showcases the couple's creative carpentry skills. "The woodwork is a focal point of the whole thing," says Justin, owner of Walnut Wood Works. "It just made sense to put a lot of that in there. There's a lot of walnut."
Upon purchasing the dilapidated Motorhome, the duo knew they had their work cut out for them. They stripped down the old chassis to the metal frame and did a total rebuild.
"It started as a 'fix it up and use it' project, but things got out of hand quickly," Justin says. "One thing led to another—it was a bare shell in no time, and we started fresh."
The couple had their own vision for the floor plan, which deviated from the original layout of the motorhome. They outfitted the interior with foamed PVC walls, a white aluminum ceiling, and engineered waterproof laminate COREtec oak. They added new plumbing and electrical systems, along with photovoltaic panels, and they re-insulated the whole coach with spray foam.
"A lot of time and work was put into the design and proportions to make it feel like a place you want to spend time," Justin says. "The hallway is large and doesn't feel cramped; and the windows really add to the sense of openness." To achieve an open and bright feel, they removed the original upper cabinets to bring in more natural light.
"The curvature of the thing is the biggest hassle with these," says Justin. "It's not a Winnebago that's nice and square. It's sleek and modern—even though it was built in the '70s, way ahead of its time."
The curved walls of the chassis proved to be cumbersome when building the cabinets and wall panels. The couple cut a panel by hand and used a CNC machine to digitize the curve so that they could design the woodwork on a computer using CAD software. They then cut all the curved pieces with CNC routers.
"We really wanted to pay attention to the curves with the design," Justin says. "It was important that we not try to force a square peg in a round hole."
To couple's intricate and meticulous carpentry is even found in the dry bath, where they built a carved walnut shower pan. To waterproof the woodwork, they added a topcoat of conversion varnish. While the couple DIYed the interior from top to bottom, they had the exterior painted by a custom paint shop in Casey, Illinois.
"For the color scheme, we wanted something that was classy and clean, but that also paid homage to the fact that it's a '70s vehicle," Justin says. "The color you see is what we came up with—retro, but modern at the same time. We kept that same theme going throughout the build. We wanted it to feel distinctly '70s, but to also fit in with our modern taste."