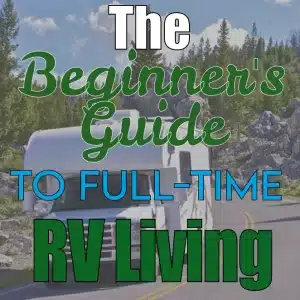 Are you tired of the daily grind and looking for an escape? Are you ready to hit the open road and live a life of freedom? Full-time RV living might be just what you need. This lifestyle allows you to travel, explore new places, and meet interesting people while enjoying the comforts of home.
In this beginner's guide to full-time RV living, we'll provide you with tips and tricks to help you get started on your journey. From choosing the right RV to budgeting for your trip, we've got you covered. Let's hit the road!
The first step in your full-time RV journey is choosing the right RV. There are many different types of RVs to choose from, each with its own pros and cons. Here are a few things to consider when making your decision:
Class A Motorhomes
Class A motorhomes are the largest and most luxurious RVs on the market. They typically have a length of 30 to 45 feet and can sleep up to eight people. These RVs are ideal for long-term living and offer many amenities, such as a full kitchen, bathroom, and bedroom. They also come with a higher price tag and are less fuel-efficient than other RVs.
Class B Campervans
Class B campervans are smaller and more maneuverable than Class A motorhomes. They are typically built on a van chassis and have a length of 18 to 24 feet. These RVs are ideal for solo travelers or couples who value mobility over space. They are also more fuel-efficient than Class A motorhomes but offer fewer amenities.
Class C Motorhomes
Class C motorhomes are a mid-range option that offers a balance between space and maneuverability. They are typically built on a truck chassis and have a length of 20 to 32 feet. These RVs are ideal for families and groups who want more space than a Class B campervan but don't need the luxury of a Class A motorhome. They are also more fuel-efficient than Class A motorhomes but offer fewer amenities.
Travel Trailers
Travel trailers are a popular option for full-time RVers who already own a vehicle capable of towing. They come in a variety of sizes and styles and can range from 15 to 40 feet in length. Travel trailers offer many of the same amenities as Class A and Class C motorhomes but are less expensive and more fuel-efficient.
2. Budgeting for Your Trip
One of the most important aspects of full-time RV living is budgeting for your trip. You'll need to consider the cost of your RV, fuel, campsites, food, and other expenses. Here are a few tips to help you stay within your budget:
Choose the Right RV
As we mentioned earlier, the type of RV you choose will have a significant impact on your budget. Class A motorhomes are the most expensive, while travel trailers are the least expensive. Choose an RV that fits your budget and your lifestyle.
3. Consider Your Campsite Options
Campsite fees can vary widely depending on the location and amenities offered. Consider staying at state and national parks, which are typically less expensive than private RV parks. You can
Finding the Right Campsites
Finding the right campsites is essential to enjoying your full-time RV living experience. Here are a few tips to help you find the perfect spot:
Research Campsites Ahead of Time
Before hitting the road, research campsites in the areas you plan to visit. Look for reviews and ratings from other RVers to get an idea of what to expect. Check availability and make reservations in advance to ensure you have a spot to park your RV.
Consider Campground Amenities
Different campsites offer different amenities. Some have full hookups, while others only offer water and electric. Some campgrounds have swimming pools, playgrounds, and other activities, while others are more rustic. Consider what amenities are important to you when choosing a campsite.
Check for Pet-Friendly Campsites
If you have pets, make sure to check for pet-friendly campsites. Some campsites have restrictions on pets, while others welcome them with open arms. Be aware of any additional fees for pets and make sure to clean up after them.
Considering Boondocking, or Off-Grid Camping?
Some considering full time may be thinking of going totally off-grid.  That means being fully self contained – no external power, water or sewer hookups.  However you also risk not having the amenities you may need.  While boondocking is an option for most full-timers, it's not for everyone.  Many full timers do a mix of campground and off-grid camping to both save money but also give you access to amenities when needed.
For example, you may boondock for 5 or 6 nights, then use a campground for 1 or 2 so you can take advantage of a sewer dump, the ability to restock your fresh water, and perhaps charge batteries.  You may also find other amenities, such as laundry, showers, pools etc. useful and enjoyable.
4. Preparing for Life on the Road
Preparing for life on the road requires a bit of planning and preparation. Here are a few things to consider before hitting the road:
Downsize Your Possessions
Living in an RV requires downsizing your possessions. You won't have as much storage space as you're used to, so it's essential to be selective about what you bring with you. Consider donating or selling items you don't need before hitting the road.
Downsizing can be very difficult for others in your family, so be sure to consider their feelings.  Don't assume everyone is fine with selling off your things.
Make Sure Your RV is Roadworthy
Before hitting the road, make sure your RV is roadworthy. Have it inspected by a qualified mechanic to ensure everything is in good working order. Check the tires, brakes, and other essential components to avoid breakdowns on the road.
You may be able to find a mechanic in your area or even a mobile RV technician.
Learn Basic Maintenance Skills
Living in an RV requires some basic maintenance skills. Learn how to perform simple repairs and maintenance tasks, such as changing a tire or checking the oil. This will save you time and money in the long run.
Maintaining an RV is a unique skill.  It's a combination of vehicle maintenance and home maintenance all rolled into 1.
5. Staying Connected on the Road
Staying connected on the road is essential for full-time RVers. Here are a few tips to help you stay connected:
Invest in a Cell Signal Booster
Many RV parks and campsites have spotty cell phone reception. Investing in a cell signal booster can improve your connection and allow you to stay connected even in remote areas.
Consider Satellite Internet
If you need reliable internet access, consider investing in satellite internet. This can be more expensive than traditional internet service, but it allows you to stay connected even in areas without cell phone coverage.
Use Public Wi-Fi
Many RV parks and campgrounds offer free Wi-Fi. While the connection may not be the fastest, it can be a good way to save on internet costs.
If you do plan on spending most of your time in an RV park or campground with wi-fi, you may consider getting your own dedicated wired or wireless internet.  Be sure to check with the park first to make sure you can do this.
6. Tips for Living in a Small Space
Living in an RV means living in a small space. Here are a few tips to help you make the most of your space:
Make the Space Your Own
One of the first things we do when we purchase a "new to us" RV is to ensure it fits our lifestyle.  That usually means some remodeling.  For example, in our motorhome, we removed the jack-knife sofa and dinette and installed a more comfortable love seat, and a flatscreen TV. We've also done some painting to lighten things up, and added some accent lighting.
Use Multi-Functional Furniture
Choose furniture that can serve multiple purposes. For example, a table that can convert into a bed or a sofa with built-in storage. This will help you maximize your space and keep things organized.
Keep Things Organized
Keeping things organized is essential in a small space. Use bins, baskets, and other storage solutions to keep things tidy. Make sure everything has a designated spot to avoid clutter.
Get Outside
Living in a small space can be claustrophobic at times. Get outside and enjoy nature whenever possible. Go for a walk, hike, or bike ride to get some fresh air and stretch your legs.
7. Staying Safe on the Road
Staying safe on the road is crucial for full-time RVers. Here are a few tips to help you stay safe:
Always Wear Your Seatbelt
Always wear your seatbelt when driving, even if you're only going a short distance. This can help protect you in the event of an accident.
Keep Your RV Secure
Keep your RV secure when parked. Lock your doors and windows, and consider investing in a security system. Avoid parking in isolated areas or areas with high crime rates.
Be Aware of Your Surroundings
Be aware of your surroundings when camping or parking. Look for potential hazards, such as uneven terrain or overhanging branches. Keep an eye out for wildlife, such as bears or snakes.
8. Finding Community on the Road
Finding community on the road is essential for full-time RVers. Here are a few tips to help you connect with other RVers:
Attend RV Rallies and Meetups
Attend RV rallies and meetups to connect with other RVers. These events offer an opportunity to meet like-minded people and learn from others' experiences.
Join Online Communities
Join online communities, such as RV forums and Facebook groups. These communities offer a wealth of knowledge and a place to ask questions and connect with other RVers. Our website has a growing community.
Volunteer at Campgrounds and Parks
Volunteering at campgrounds and parks is a great way to give back and connect with other RVers. You can meet other volunteers and campers while helping to maintain and improve campgrounds and parks.
9. Common Challenges and How to Overcome Them
Full-time RV living comes with its share of challenges. Here are a few common challenges and how to overcome them:
Loneliness
Living on the road can be lonely at times, especially if you're traveling alone. Connect with other RVers through meetups, online communities, and volunteering.
Maintenance Issues
RVs require maintenance and repairs from time to time. Learn basic maintenance skills and have a contingency plan in case of a breakdown.
Finding the Right Campsite
Finding the right campsite can be challenging, especially during peak travel season. Research campsites in advance and make reservations whenever possible.
Budgeting and Financial Planning
Budgeting and financial planning can be a challenge for full-time RVers. Keep track of your expenses and make a plan to stay within your budget.
Weather Conditions
Weather conditions can impact your travel plans and living conditions. Check the weather forecast before hitting the road and prepare accordingly.
Road Fatigue
Driving long distances can be exhausting. Take breaks every few hours to rest and recharge.
10.Frequently Asked Questions
Full-time RV living can be an incredible experience, but it requires planning, preparation, and a willingness to embrace a simpler way of life. Use the tips and tricks in this beginner's guide to help you get started on your journey. Remember to stay safe, stay connected, and enjoy the ride.
If you have any further questions about full-time RV living or are ready to hit the road, don't hesitate to reach out to the RV community or consult with experienced RVers. Happy travels!